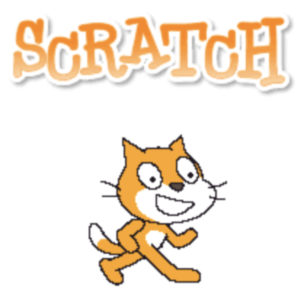 Description
Scratch program was developed at the MIT Media Lab by Lifelong Kindergarten research group and is used by millions of children around the world.
Application Overview
Scratch is a program for children aged 8 to 16. It helps them learn the basics of computer science and mathematics. It is based on a programming language that promotes numerical simulations, the creation of interactive stories, games and others, with the possibility of sharing them online. 
It is therefore not surprising that it is used by many schools and in many coding courses. The app is complete and focuses on coding basic concepts to provide teachings to children.
Learning algorithms is fun and in order to move forward, players must make use of the instructions provided, position the blocks correctly or make their characters speak at the right time.
Its interface is divided into 03 distinct windows:
The

first

window

represents

the

final

result

of

the

games

and

creations

made

by

children

.

The

second

one

represents

the

palette

of

code

blocks

use

for

coding

.

The

last

one

represents

all

useful

"sprits/fights"

of

carrying

out

a

project

.
Moreover, the app teaches children to program sensors and lights. However, these are only possible with the use of robots such as:
LEGO

Education

Wedo

2

.

0

LEGO

Mindstorms

NXT

Thymio

Mbot

GoPiGo

Raspberry

Pi

Robot

orMicro:bit
Through Scratch, children are able to develop their logical thinking and excellent structuring skills. The goal here is to help them be creative, develop their thinking skills and intelligence, collaborate with others and share their creations.
However, in order to use the application, they must be able to read and have some knowledge of geometry. They may need your help in the very beginning when using the app.
We particularly recommend Scratch because it is complete. Children are able to combine several skills (graphics, music, photos, etc.) in order to create all kinds of animation.
In addition to that, it is compatible with several devices and browsers: Windows 10, Android 6.0 and above, MacOS 10.13, ChromeOS, etc.
It is also translated into more than 70 languages. The fact that the program is multilingual is very convenient, because it is accessible to millions of users around the world.
Another particularity of Scratch is that it is also available on the internet. You can either download the app or directly go to its website.
Moreover, the program is recommended for parents and educators. There are interesting information dedicated to parents and educators on the website.
Last but not least, the program works offline!
Budget
Languages
Devices
Browsers
Characteristics
Ease of Play
Gamification and playfulness
Engagement
Creativity
Problem-solving oriented
Positive message
Educational
Design/quality
Quality of teaching
Collaboration
Develop Critical Thinking
Recommended for educators